Link Research Tools
Building backlinks for your website is a tough job these days, prior to Google's Penguin life was easy, Links in those days never did any harm, they either worked or they didn't there was no way to cause harm to your site.  Nowadays the World is a different place.  Link Research Tools is a great help to understand and explore a websites links.  It can also creates a disavow file using its DTOX tool.
Links need to be high quality and the text in them should not be to orientated towards money phrases, ie only a few % of your links can be money ones typically 97% of links need to be generic or use your domain name, then only the remainder can be keyword targetted.  That in itself means that for every good link there needs to be 33 generic ones.  So hugely more work is needed.
Bad links – ie spammy or weak ones can now drag your rankings down rather than boost them up, so you need to audit all links regularly to track for ones going bad or unexpectedly weak ones appearing.
I use a few tools to help me.
Link Research Tools.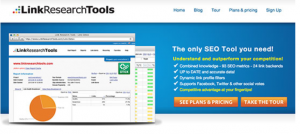 This is a high end product with very advanced features but does also come with a heafty price it is pitched at $300 monthly entry level.
Ahrefs
This is a good all around tool.  It crawls quickly and is not to expensive.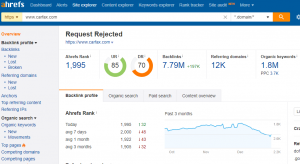 What is good about this tool is that it shows a sites links and then sorts them into strength order, which then allows me to work out which are the strongest links a competitor or target site has.
Google Webmaster Tools
Google Webmaster tools or Search Console as it is now called is the other one – it shows the links that Google has found and also how you perform for each phrase and the rankings each has in the SERPS

I find between these two tools I can get the job done!
Please follow and like us: